4 Books & Articles To Rethink Customer Experience
Customer experience continues to evolve with the implementation of AI solutions to better leverage customer data. However, companies are still behind in innovating in customer experience. Actually, 54% of consumers say that customer experience in most companies needs improvement. (PwC 2018)
Just as with digital transformation, C-level executives are rethinking the way customer experience has worked in an enterprise. And in order to move forward, it is important to sit back and look at a bigger picture.
A great way to do that is by reading books to broaden our perspective on a topic. Here are 4 books and articles to help us rethink and innovate on customer experience:
Customer Experience Books & Articles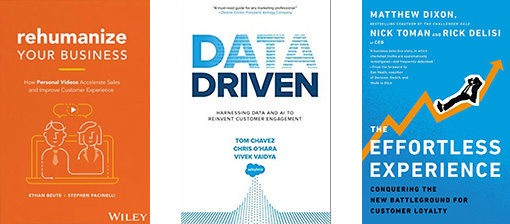 We're so immersed in technology that it's easy to forget about the human side of things. The book Rehumanize Your Business: How Personal Videos Accelerate Sales and Improve Customer Experience, authored by Ethan Beute and Stephen Pacinelli, explores the value of going back to basics. It goes into the success of personal videos and close relationships to connect with customers and drive sales.
Author and AI Specialist Oleksii Kharkovyna, dives into how Artificial Intelligence and Machine Learning can help scale customer experience. He touches on how AI is able to create personalized experiences by detecting and predicting the future needs of customers. While Machine Learning "allows to estimate the values of existing features and test them".
Quoting from his article:
ML helps classify which features resound with their customers and, eventually, optimize all angles of the customer journey. Hereafter, it can be used to test many kinds of marketing frameworks. For example, ML patterns will be used for developing mobile-based apps where shoppers can virtually try on garments they're interested in buying.
Written by Tom Chavez, Chris O'Hara, and Vivek Vaidya, Data Driven discusses the disruption of data in the creation of meaningful connections. It includes real-world examples of how artificial intelligence and data are taking customer experience to the next level. From an overview of how we got here to actionable tips on harnessing data and AI to improve consumer relationships.
The Effortless Experience: Conquering the New Battleground for Customer Loyalty by Matthew Dixon, Nick Toman, and Rick DeLisi, breaks the mold by talking about the importance of going back to basics. Customer experience and customer service should not be a hassle. They set the focus on reducing customer effort and moving away from the premise of "delighting" to making experiences easier.
What are your favorite books about customer experience? Tweet us to @outvise to let us know!