What Will Set Streaming Media Apart?
Back in 2016, Nielsen published a paper with various stats related to video on demand. Some of their findings included:
Most viewers appear to be supplementing, rather than replacing, paid traditional TV services (received through a cable or a satellite). Nearly three-quarters of global online respondents say they pay such a service to watch programming; just over one-quarter say they pay an online service provider (such as Hulu, Netflix or Amazon).
Nearly two-thirds of traditional TV-package subscribers in the survey plan to maintain their subscriptions, but nearly one-third say they plan to cancel their service in favor of an online-only provider.
Video on demand is becoming a part of daily viewing habits for many. Among those who watch any type of VOD programming, 43% say they watch at least once a day. • More than half of global respondents (51%) somewhat or strongly agree that ads displayed before, after or during video-on-demand programming give them good ideas for new products to try, and 59% say they don't mind getting advertising if they can view free content.
It's been a few years since these stats and today we find them to be true. Actually, a report shared by Statista, shows that the number of subscription video on demand (SVoD) households worldwide is projected to grow from 250 million in 2018 to 450 million in 2022.
It is no question that we're in the middle of a streaming revolution, with various big players in the video on demand game. But what is not clear yet, is what will set them apart and what value they will bring to stay on top of the race. Let's explore some options:
Using Data for Personalization
In 2006, Netflix launched "The Netflix Prize", a competition that awarded 1M dollars to programmers who could improve their recommendations engine. Today, as we navigate the world of big data and AI, we can recognize the importance of using data in a way that can benefit and provide value to the customers.
Josh Pressnell from Streaming Media goes even further out in what VOD players need to achieve to convert and maintain customers engaged. He writes:
"A truly good recommendation engine—and a better user experience—relies on real artificial intelligence, which necessitates more data, from multiple locations. It goes beyond relatively simple "users who liked this also liked this" algorithms and stretches into "deep data." … Integrations with social channels may be low-hanging fruit here, offering a much more complete vision of who a viewer really is and what they might want to watch. Linking VOD accounts to Twitter, Facebook, Instagram, and Pinterest profiles is a simple way to introduce more data points and make a huge step toward a more personalized experience, and a user's likes and Twitter followers can paint an interesting picture of what a viewer might want to watch while using information that's somewhat less-sensitive to today's privacy issues."

Innovation on Streaming and VOD
Convenience and cost are two of the benefits of video on demand for customers, but also, lately we're seeing an important trend related to innovative and exclusive content. A great example of this is the launch of Roma by Alfonso Cuarón, which was exclusively launched in Netflix and has yielded incredible results.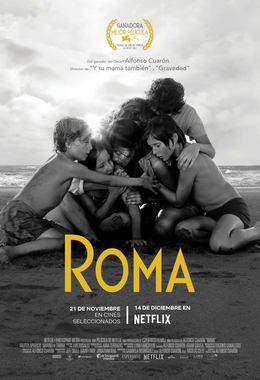 Without doubt, Netflix and others are moving into a content creation revolution which is a trend that we'll need to watch closely.
Will we witness more films ditching the traditional movie theater launches? I guess we will need to wait and see but the trend seems to point in that direction for some producers.
But as we continue to enjoy a plethora of services, the question of innovation and differentiation will continue present. What will come next?