Outvise's New Profile on Popular Business Software Directory
We are proud to share our new profile featured on the trusted review site, FinancesOnline. The team at FinancesOnline has been kind enough to rate us with two quality certificates in recognition of our digital talent marketplace's contribution in helping various agencies fill their roster with qualified talents.
FinancesOnline is a popular review site for business software solutions, and we are glad to be included in their top freelance websites for professionals and for being recognized with the Great User Experience and Rising Star awards for 2018. These quality certificates shine the spotlight on Outvise for providing an outstanding user experience and for being a reliable tool for telecom, digital, and media companies that want to discover and attract suitable talents for their short-term or long-term projects.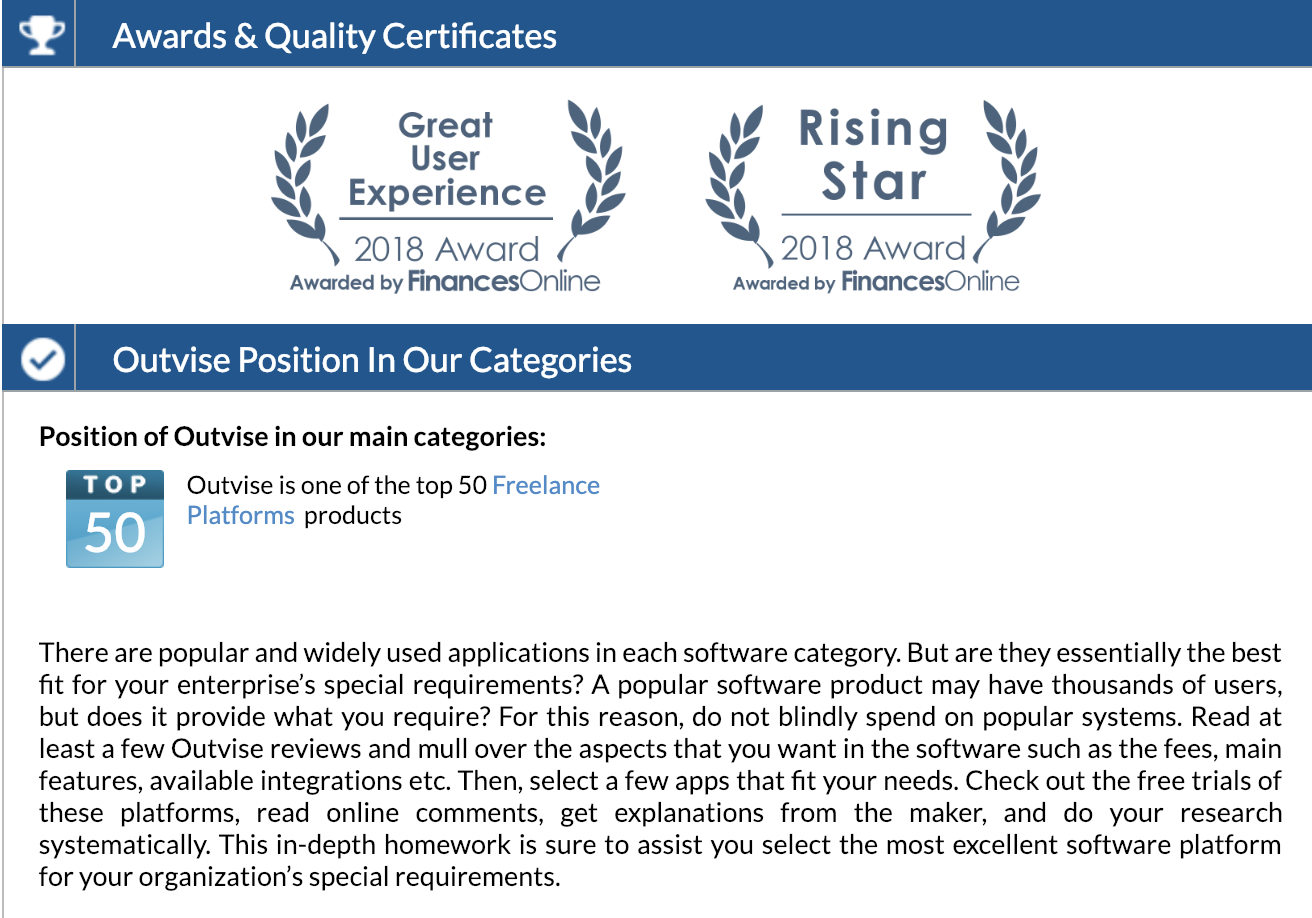 Outvise's Featured Profile
In an Outvise overview prepared by FinancesOnline, the review platform evaluated how our solution can help businesses in sourcing talents. Factors that they took into consideration include:
- Outvise's "top class" sourcing and filters that can help businesses find talents that match their specific parameters, from age and geographical location to professional qualifications and skills.
- Our thorough shortlisting of qualified candidates.
- Our full transparency with clients, providing users with full information regarding "every stage of the recruitment and sourcing process."
We are appreciative to all of our experts in the platform and we thank everyone for believing in Outvise for finding the best talents for their business. To add to the discussion and FinancesOnline analysis for 2019, visit their website and share your thoughts and experiences with our platform.